Integral pup joints flow line Pipe
Integral Pup joints Flow line Pipe with weco hammer wing union are often used in the oilfield as high pressure well servicing lines, fracturing lines, well testing lines, well cementing and circulating lines, discharge lines, auxiliary flow lines, choke-and-kill lines and other well service and stimulation applications.
We CCSC Integral Pup joints Flow line Pipe are designed and manufactured in accordance with API SPEC.6A and API SPEC.16C standard and they are improved from SPM integral flow line pipe &FMC WECO series integral pup joints.
They are easy for operation and low torque and simple to maintain. Available in lengths up to 20 feet, standard service at cold working pressures up to 20,000 psi and sour gas services at working pressures up to 15,000 psi.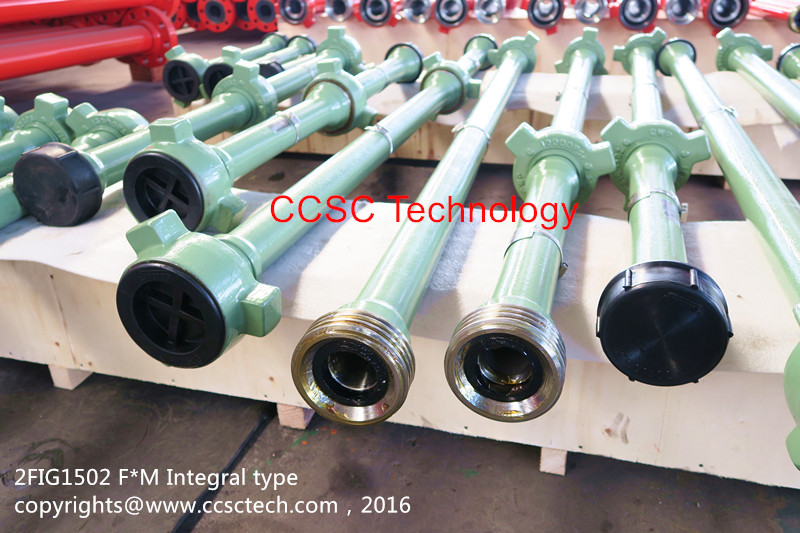 Application:
♦ Oil and Gas lines ♦ High-pressure well servicing lines
♦ Acidizing& fracturing lines, testing lines ♦ Crude Oil and Sour Gas, Mud.
♦ Manifolds and Pipelines ♦ circulating lines, and other well service
♦ cementing and cand stimulation applications. ♦ Production and flushing lines,
Features
♦Low torque operation at all pressures
♦ Available in one-piece integral forged body and non-pressure seal designs (NPST)
♦ Retention shoulder prevents nut from sliding down pup
♦Permits fast, easy service at the job site.
Technical Parameter
♦Medium: water, oil and gas accompanied with sour gas or / and sand
♦Working Pressure: 3000PSI,6000 PSI, 10000 PSI, 15000 PSI, 20000 PSI
♦Nominal Size: 1-4 inch, Fig602, Fig1002, Fig1502, FIG2202
♦Standard and Sour gas Service are all available
♦Length: 2ft 3ft 4ft 5ft 6ft 8ft 10ft 12ft 20ft,(customizable length)
Note: Customer's inquiry information shall include size, working pressure, connection union type, and working condition sour gas or standard service.