Lap joint flange
Lap joint flange is also called as loose flange which is widely used for pipe line in oil and gas industry
Lap joint pipe flanges fit over the pipe and are most commonly used with stub end fittings. A Lap flange usually have two components, a stub end, and a loose backing flange.
A pipe is typically welded to the Stub End and the Lap Joint is free to rotate around the stub end.
Backing flange freely moves over the pipe. The backing flange can be of a different material than stub material and normally of the carbon steel to save the cost.
The benefit of this is that there will not be any issues with bolt hole alignment. These are often used for applications that require frequent dismantling
We CCSC technology dedicate to total lap joint flanges solution for our clients, our lap joint flanges can meet and exceed the industry's requirements in severe working condition, low or high temperature and related working pressures. The high strength of forged bodies make our loose flange most reliable and long lasting.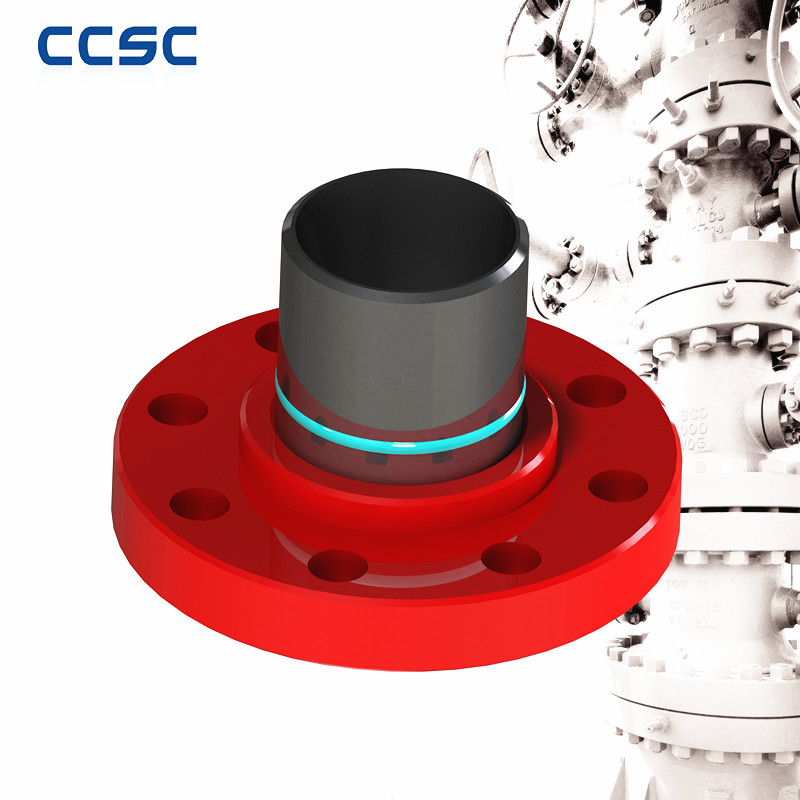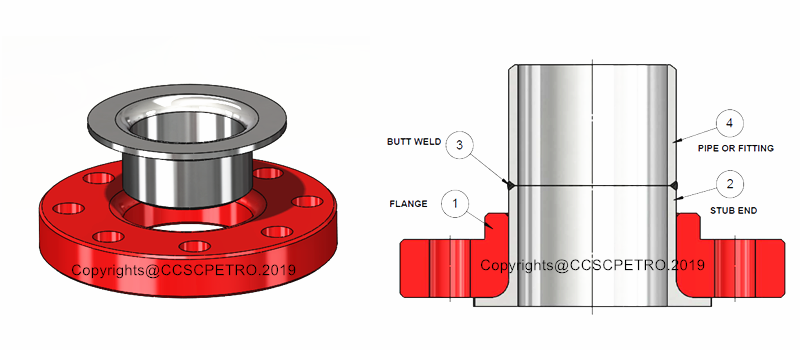 Features
●Connection Type: ASME /ASTM flange with stub end
●Material: AISI 4130, AISI 4140,ASTM 304SS,ASTM 316SS, ASTM 410SS, Inconel 718, Inconel 625, ANSI UNS Duplex steel :F51(S31803) , F52(S32900), F53(S32750), F60(S32205), F68(S32304)
●Nominal size: 1 inch to 30 inch
●Design Standard: ANSI B16.5 ,ASME B16.5
Application in oil and gas industry
● Oilfield manifold system, ●Crude oil and natural gas Pipeline
● Onshore drilling & production ●Offshore drilling & production
● Subsea pipeline application ●Oil and gas processing plant
Guidelines for procurement: Client's inquiry should include below information before purchasing
1,Flange connection : stub end or not
2,Flange standard: ANSI/ASME B16.5
3,Working pressure: ASME Class 150 to Class 2500
4,Nominal size: 1 inch to 30 inch
5,Material requirement :
Carbon steel (A105,AISI1010,AISI1020,AISI 1045)
Alloy steel (AISI 4130,4135,4140)
Stainless steel (ASTM 304SS,316SS,410SS)
Duplex stainless steel (F51/UNS S31803,F52/UNS S32900 ,F53/UNS S32750, F55/UNS S32760,F60/UNS S32205, F61/UNS S32505)
Inconel alloy: Inconel600,Inconel 601, Inconel 617,Inconel625,Inconel 690,Inconel718, Inconel X-750
6,Quantity
All rights reserved,copyrights@ccscpetro.2019 Contact: clark@ccscpetro.com