Annular BOP Blowout Preventer
Annular BOP blowout preventer is often used in onshore and offshore when drilling completion, oil test, workover, etc., it is a kind of large valve used to control wellbore fluids. Annular bop blowout preventer is designed and manufactured in accordance with API 16A standard. They are specifically made to seal, control and monitor oil well and gas well. Most blowout preventer (BOP) stacks contain at least one annular BOP at the top of the BOP stack.
CCSC technology's Annular BOP blowout preventer has many sizes and pressure ratings used for drilling applications. They can meet all kinds of working conditions and performance requirement. And can be used to replace Shaffer Annular BOP, Cameron Annular BOP, or Hydril Annular BOP.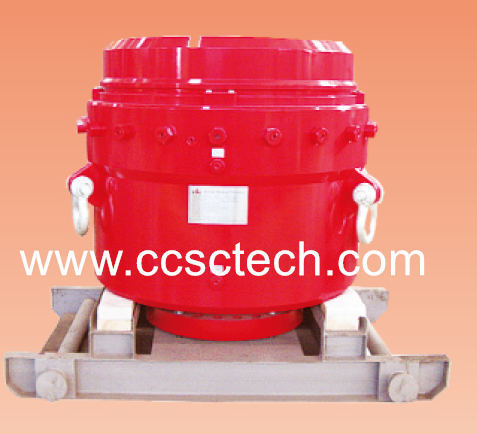 Features
●Simple structure and convenient maintain
●Wear ring is installed on piston for prolonging Service Life
●Rubber has the excellent sealing ability
●Light weight, small size and easy maintenance.
●Low demand of hydraulic oil for model A
Large demand of hydraulic oil for model B
●The rubber can be replaced without pilling it out of hole
Technical Parameter
●Actuating Pressure:3000PSI(MAX),recommended actuating pressure:1200-1500PSI
●Control oil inlet connection:1"NPT, 1-1/2"NPT
●ring groove adopt 316SS INLAY
●Working Pressure: 2000-20000 PSI
●Bore Size: 7 1/16-21 1/4 inch
●Sour Service Models to NACR MR-01-75