Socket weld flange
Socket weld flange is widely used for pipe line in oil and gas industry. They are widely used in high pressure systems such as hydraulic equipment and steam lines.
Socket Weld flanges were initially developed for use on small-size high pressure piping. Their static strength is equal to Slip On flanges, but their fatigue strength 50% greater than double-welded Slip On flanges.
The connection with the pipe is done with 1 fillet weld, at the outside of the flange. But before welding, a space must be created between flange or fitting and pipe.
ASME B31.1 1998 127.3 Preparation for Welding (E) Socket Weld Assembly says: In assembly of the joint before welding, the pipe or tube shall be inserted into the socket to the maximum depth and then withdrawn approximately 1/16" (1.6 mm) away from contact between the end of the pipe and the shoulder of the socket.
The purpose for the bottoming clearance in a Socket Weld is usually to reduce the residual stress at the root of the weld that could occur during solidification of the weld metal. The image shows you the X measure for the expansion gap.
The disadvantage of this flange is right the gap, that must be made. By corrosive products, and mainly in stainless steel pipe systems, the crack between pipe and flange can give corrosion problems.
In some processes this flange is also not allowed. Also for this flange counts, that principle always firstly a pipe must be welded and then just a fitting.
Socket Weld Flanges (SW Flanges) are similar to slip-on flanges in outline, but the bore is counter-bored to accept pipe. The diameter of the remaining bore is the same as the inside diameter of the pipe. The Socket Welding Flange is attached to the pipe by a fillet weld around the hub of the flange. An optional internal weld may be applied in high stress applications. The Socket Flanges' biggest use is in high pressure systems such as hydraulic and steam lines.
We CCSC technology dedicate to total socket weld flanges solution for our clients, our socket weld flanges can meet and exceed the industry's requirements in severe working condition, low or high temperature and related working pressures. The high strength of forged bodies make our weld neck flange most reliable and long lasting.
Our socket weld flanges are made in compliance with international standards such as API spec.6A, ANSI B16.5 and ASME B16.5 etc.
Socket weld flange dimensions are designed according to ASME B16.5 which covers Pipe Flanges and Flanged Fittings for size NPS 1/2 inch to 24inch for above NPS 26 inch to 60 inch it should be as per ASME B16.47. Socket weld flanges are available only up to 3 inch NPS Size.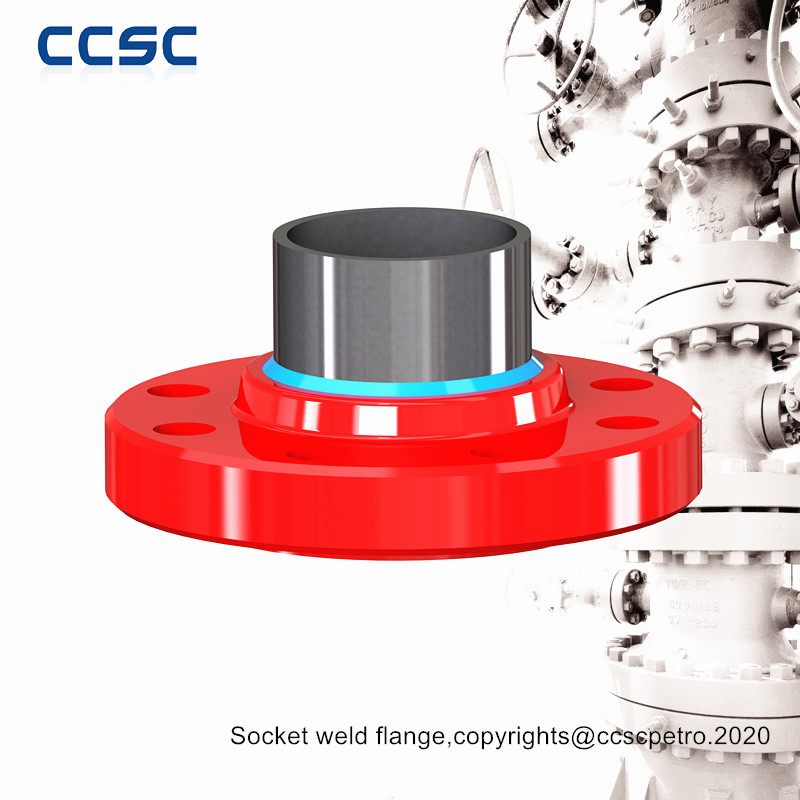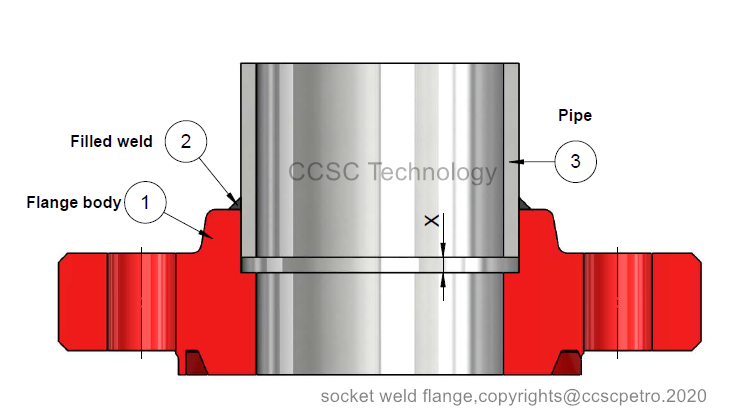 Features
●Connection Type: RTJ Flange,RF Flange
●Material: AISI 4130, AISI 4140,ASTM 304SS,ASTM 316SS, ASTM 410SS, Inconel 718, Inconel 625,
ANSI UNS Duplex steel :F51(S31803) , F52(S32900), F53(S32750), F60(S32205), F68(S32304)
●Nominal size: 1/2 inch to 60inch
●Design Standard: API 6A,ANSI B16.5 ,ASME B16.5,API 17D
Application in oil and gas industry
● Oilfield manifold system, ●Crude oil and natural gas Pipeline
● Onshore drilling & production ●Offshore drilling & production
● Subsea pipeline application ●Oil and gas processing plant
Guidelines for procurement: Client's inquiry should include belows information before purchasing
1, Flange connection : flat face, RF face or RTJ face
2, Flange standard: API 6A, ANSI/ASME B16.5 ,B16.47,API 17D
3,Working pressure: ASME Class 150 to Class 2500 , API 6A 2000PSI to 20000 PSI
4,Nominal size: ASME B16.5 -1/2 inch to 24 inch ,ASME B16.47 26" to 60"
5,Material requirement :
Carbon steel (A105,AISI1010,AISI1020,AISI 1045)
Alloy steel (AISI 4130,4135,4140)
Stainless steel (ASTM 304SS,316SS,410SS)
Duplex stainless steel (F51/UNS S31803,F52/UNS S32900 ,F53/UNS S32750, F55/UNS S32760,
F60/UNS S32205, F61/UNS S32505)
Inconel alloy: Inconel600,Inconel 601, Inconel 617,Inconel625,Inconel 690,Inconel718,
Inconel X-750)。
6,Quantity
All rights reserved,copyrights@ccscpetro.2019 Contact: clark@ccscpetro.com