Casing centralizer
Centralizer is the key equipment for oilfield drilling cementing operation. Centralizer is an essential auxiliary tools for pipe string such as tubing,casing,drill pipe and sucker rod in the process of running for gas and oil exploration, it plays an important role for cementing quality and ensure the safety of production and prolong the life of the well.
According to the oilfield glossary from Schlumberger Limited. It is a mechanical device that keeps casing from contacting the wellbore wall. A continuous 360-degree annular space around casing allows cement to completely seal the casing to the borehole wall. There are two distinct classes of centralizers. The older and more common is a simple, low-cost bow-spring design. Since the bow springs are slightly larger than the wellbore, they can provide complete centralization in vertical or slightly deviated wells. However, they do not support the weight of the casing very well in deviated wellbores. The second type is a rigid blade design. This type is rugged and works well even in deviated wellbores, but since the centralizers are smaller than the wellbore, they will not provide as good centralization as bow-spring type centralizers in vertical wells. Rigid-blade casing centralizers are slightly more expensive and can cause trouble downhole if the wellbore is not in excellent condition.
We can see the related video from Weatherford explains how to choose a centralizer:
https://www.weatherford.com/en/products-and-services/drilling/cementing/centralizers/?wvideo=bomsuut4qg
In any wellbore, it is critical to choose the right type of centralizer and to place those centralizers at optimum position on the casing to achieve good and consistent standoff. Casing centralizers are available in many shapes and sizes. It is important to understand the differences in each type and which is best suited to each application.
We CCSC technology dedicate to provide total professional casing centralizer to our clients, our casing centralizer are typically include bow-spring centralizer ,mold-on centralizer, Casing centralizer, spring centralizer, semi-rigid centralizer, rigid centralizer, roller centralizer, composite centralizer, hydraulic centralizer etc.
All CCSC technology casing centralizer are made in compliance with international standards such as API standards, API 6A, API 5CT, API 10D etc.
We CCSC technology are dedicated to improve efficiency and safety in field cementing operations, all kinds of casing centralizer can be designed and manufactured according to user's requirements.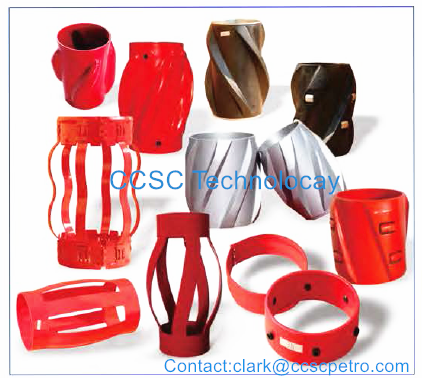 All rights reserved,copyrights@ccscpetro.2020 Contact: clark@ccscpetro.com
Disclaimer:
CCSC TECHNOLOGY & CCSC PETROLEUM EQUIPMENT LIMITED COMPANY is not an authorized agent or sales representative of weatherford and Schlumberger.