Pressure testing plunger pump
Pressure testing pump is a kind of reciprocating pumps(reciprocating plunger pump)with three plunger or five plunger, we also call it triplex plunger pump or quintuple pump-quinary plunger pumps
It is driven by electric motor or diesel engine.
This water pressure testing pump can be used for the water pressure testing in all kinds of pressure vessel, pipe line and pup joint, boiler etc.
Typical applications include chemical plant, oilfield, power station, oil pipeline, gas transmission line etc.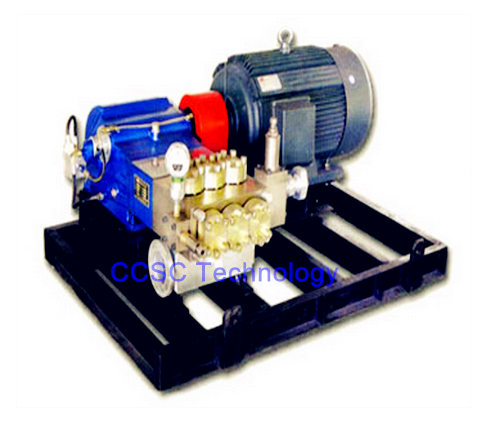 ​
Technical parameters
●Fluid media: Hot water, cold water, high-temperature water, High temperature chemicals
●move mode: Mobile type (Vehicle-mounted container-type, wheeled model), Stationary type
●Jet pressure:2-200 Mpa
●Jet length:0.3-10 m
●Theoretical flow rate:10-1000 L/Min (0.6-60 m³/h)
●Driving mode: Electric Motor, diesel engine
●Customizable according user's requirements
Features
●High pressure, low vibration low noise
●Steady flow and pressure
●Flexible control, easy operation
●High security, fast and efficient
●No corrosive to the equipment, no pollution to the environment
Applications:
●Power station, chemical plant, shipyard, Fertilizer Plant, oil extraction plant, oil refinery:
●Steel plant, coking plant, oxygen plant, gasworks, Beer Brewery, pharmaceutical factory
●Sugar refinery, Meat processing, refrigeration plant, textile mill, rubber plant, printing and dyeing mill
●Restaurants and hotels, municipal engineering.