Ram BOP Blowout Preventer
RAM BOP blowout preventer is often used in onshore and offshore when drilling completion, oil test, workover, etc., RAM BOP blowout preventer is designed and manufactured in accordance with API 16A standard. They are specifically made to seal, control and monitor oil well and gas well.
CCSC' technology RAM BOP blowout preventer has many sizes and pressure ratings used for drilling applications. such as single ram BOP, double ram BOP, triple ram BOP, quadplex Ram BOP, they are mainly hydraulic operated or manual operated,They can meet all kinds of working conditions and performance requirements. And can be used to replace Shaffer ram BOP, Cameron ram BOP or Hydril ram BOP.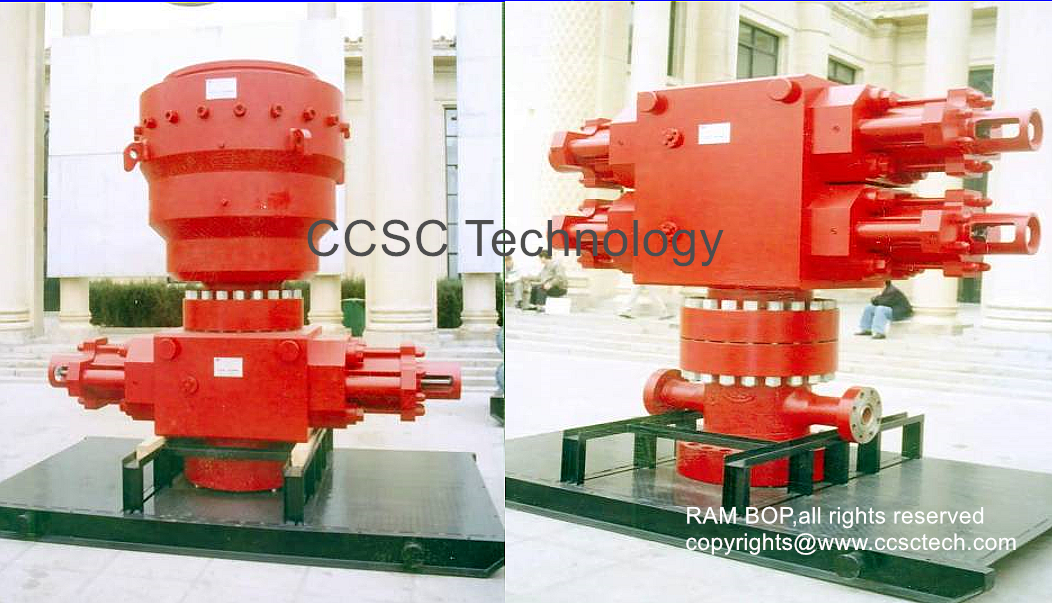 ​
Features
●Body and side door are made of alloy steel
●Use seal rings assembly to improve sealing of side door;
●Use floating type ram. Front ram rubber is separated from top ram rubber, making it more reliable in sealing and easier to change;
●Ram cavity can be fitted with ram assembly of same type BOP made abroad;
●Flange grooves are stainless steel lined.
●pipe rams,blind rams,variable bore rams,shear rams are all available without any structure change
●easy and convenient to operation on site
●the rams can be easily and quickly replaced
●lift and transport are all easy
Technical parameter
●Locking Type:Hydraulic locking and manual locking
●Ram Option:Pipe ram, blind ram, shear ram, variable bore ram.
●side outlet connection type:flanged,studded,clamp
●Working Pressure: 2000-20000 PSI
●Bore Size: 7 1/16-26 3/4 inch
●Sour Service Models to NACR MR-01-75