Wellbore scratcher
Wellbore scratcher is also called as wire bristle scratcher, it is a kind of cementing casing tools which is key equipment for oilfield drilling cementing operation.
Wellbore scratchers can remove excessive wall cake and improve the cement bond between the casing and porous formations while reinforcing the cement column. Their hinged design makes them easy to install. For running in the hole, a series of scratchers is mounted on the casing string. The inclined external bristles abrade the wellbore during running and reciprocation. The wellbore scratchers feature large fluid-bypass slots and coiled bristles for bending durability.
Wire Bristle Scratcher consists of a hinged collar radiating into bristles. each bristle is made of hardened and tempered wire with two scratching elements. These scratchers can improve the cement bond between the casing and porous formations while reinforcing the cement column.
Wellbore scratcher can help improve cement-to-formation bonding and zonal isolation by removing excess mud cake from wellbores and reinforcing the cement column. During running and reciprocating operations, the tools keep the wellbore free of debris and mud cake with the action of continuous, overlapping loops or abrading bristles, both made of high-strength tempered-steel cable.our wellbore scratchers are designed and improved from weatherford style and according to API standards.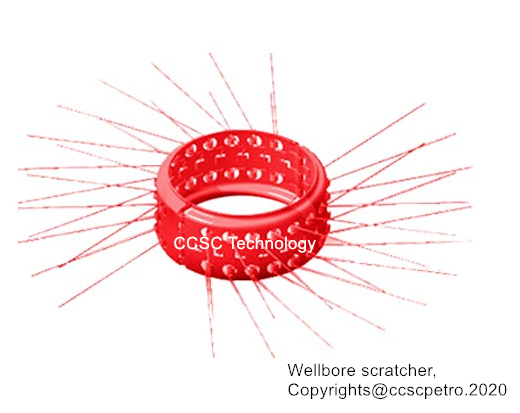 Features:
●Sized range from 4-1/2" to 20" ,Size are customizable
●Excellent Holding Force
●Cosist of a hinged collar and wire bristles are attached to it.
●Uses the hinged pins to secure the collars around the casing.
●The wire bristles are hardened and tempered
●All sizes are available in standard and customized according to the requirement of the clients..
●All wellbores requiring mud- and filter-cake removal
●Casing strings that are planned for reciprocation
●Openhole sections of wellbore requiring filter-cake removal
●Both designs provide aggressive wellbore cleaning that promotes good cement-to-formation bonding.
●The steel wipers and bristles act as reinforcement to the cement column.
●Secure attachment mechanisms enable easy and secure installation on casing, eliminating the need for separate stop collars.
All rights reserved,copyrights@ccscpetro.2020 Contact: clark@ccscpetro.com
Disclaimer:
CCSC Technology & CCSC Petroleum Equipment Limited Company is not an authorized agent or sales representative of Weatherford, Schlumberger, Halliburton.