Wellhead gate valve for ADNOC
30 Nov 2021
Wellhead gate valve for UAE ADNOC صمام بوابة فوهة البئر لشركة أدنوك الإماراتية
Recently, we have finished lots of api 6a wellhead gate valve which are designed with Cameron FLS style features for our clients in UAE, the end user of these api 6a wellhead gate valve is ADNOC. these wellhead gate valve can be used for oil drilling, oil production, well testing,and can be installed on a choke manifolds system ,wellhead Christmas tree system, pipeline system and other application in oilfield.
These wellhead gate valve are designed and manufactured in accordance with API Spec. 6A standards. These wellhead gate valve are designed base on Cameron FLS style structure features, the body and bonnet of the gate valves are made by AISI4130 integral forging, the model size of these wellhead gate valves are 2-1/16"5000psi, 2-1/16"10000psi, all seat seals and stem seals we use a kind of cantilever spring energized seal ring, these seals are all made in America. That is why we usually say that FLS have a better service life than traditional FC style and more suitable for PR2 functional testing.
This is not the first time we have won the bid. Regarding this type of wellhead gate valve, we have won the bid many times. This is not the first time that we have provided wellhead gate valves for ADNOC. We have stood out in fierce competition many times in a row. This is mainly Thanks to our high-quality product quality, good service and competitive prices. We never sacrifice our product quality in order to reduce prices. We are committed to providing customers with the highest quality products and the best customer experience as always.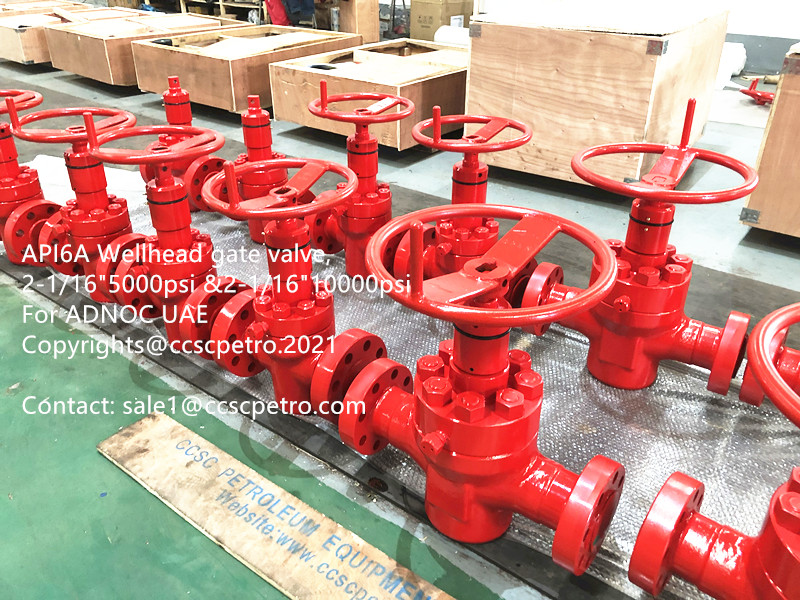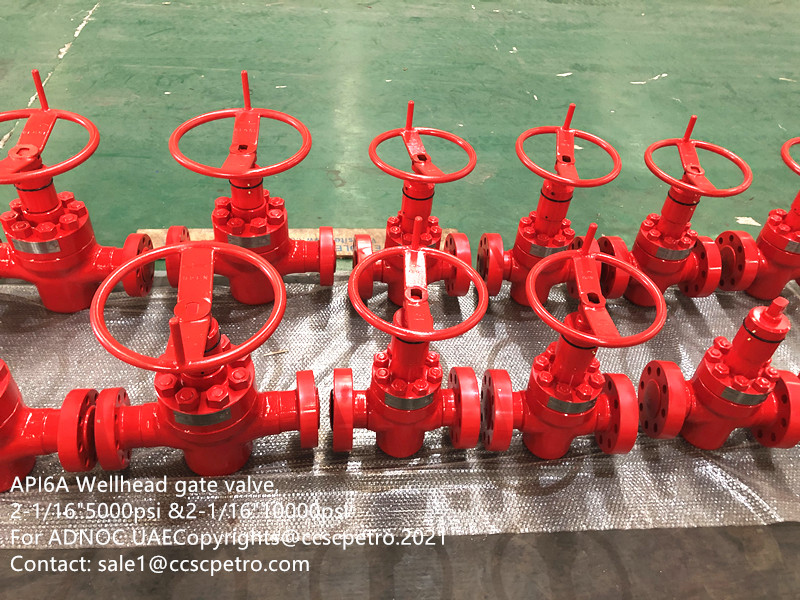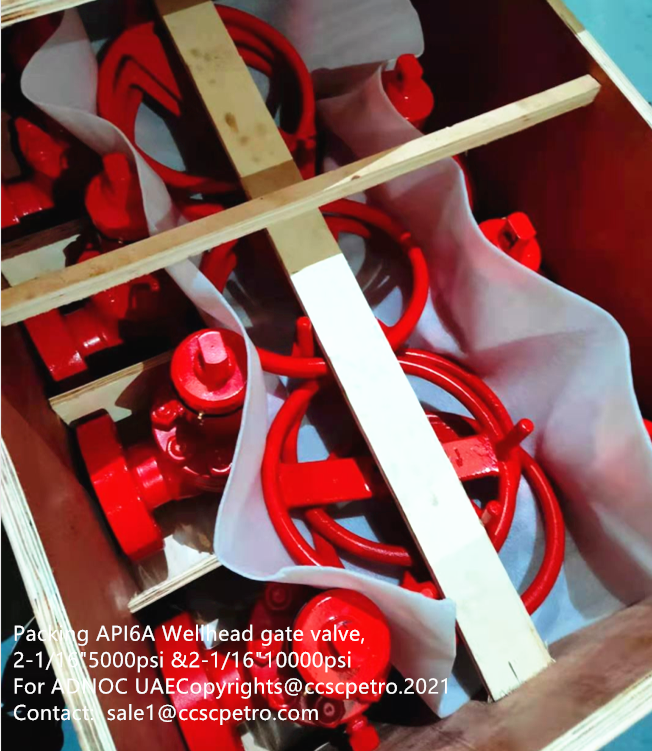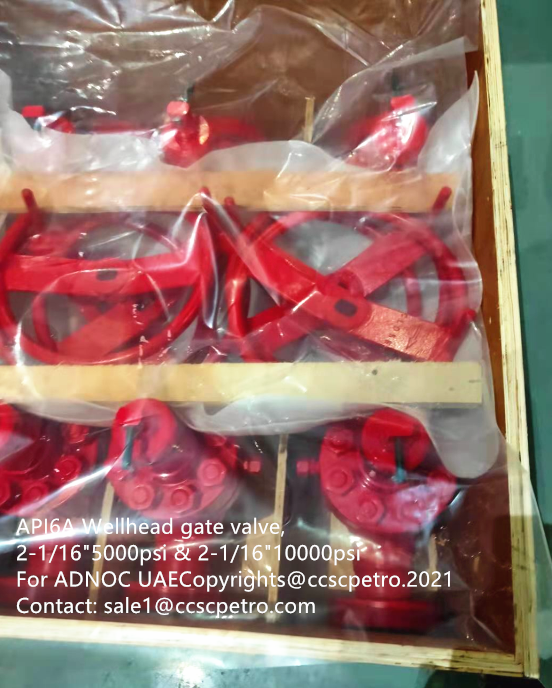 All rights reserved,Copyrights@ccscpetro,2021
Contact: sale1@ccscpetro.com clark@ccscpetro.com Wechat: clarkccsc Whatsapp:+ 86 13764749879
Disclaimers:
CCSC Petroleum Equipment Limited Company is not an authorized agent or sales representative of CAMERON.
صمام بوابة فوهة البئر لشركة أدنوك الإماراتية
لقد انتهينا مؤخرًا من الكثير من صمام بوابة رأس البئر api 6a المصمم بميزات نمط كاميرون FLS لعملائنا في الإمارات العربية المتحدة ، المستخدم النهائي لصمام بوابة رأس البئر api 6a هو أدنوك. يمكن استخدام صمام بوابة فوهة البئر هذا لحفر النفط ، إنتاج النفط ، واختبار الآبار ، ويمكن تثبيته على نظام مشعب الخنق ، ونظام شجرة عيد الميلاد في رأس البئر ، ونظام خطوط الأنابيب والتطبيقات الأخرى في حقل النفط.
تم تصميم وتصنيع صمام بوابة فوهة البئر هذا وفقًا لمواصفات API. 6A. تم تصميم صمام بوابة رأس البئر هذا على أساس ميزات هيكل نمط كاميرون FLS ، وتم تصنيع جسم وغطاء صمامات البوابة بواسطة AISI4130 بالحدادة المتكاملة ، وحجم نموذج صمامات بوابة فوهة البئر هذه هي 2-1 / 16 "5000 رطل / بوصة مربعة ، 2-1 / 16" 10000 رطل / بوصة مربعة ، وجميع أختام المقعد وموانع التسرب الجذعية التي نستخدمها نوعًا من حلقات الختم الكابولية المزودة بالطاقة ، وهذه الأختام كلها مصنوعة في أمريكا. لهذا السبب نحن عادةً ما نقول أن FLS تتمتع بعمر خدمة أفضل من أسلوب FC التقليدي وأكثر ملاءمة للاختبار الوظيفي PR2.
هذه ليست المرة الأولى التي نفوز فيها بالمناقصة. وفيما يتعلق بهذا النوع من صمام بوابة فوهة البئر ، فزنا بالعطاء عدة مرات. هذه ليست المرة الأولى التي نقدم فيها صمامات بوابة فوهة البئر لشركة أدنوك. لقد تميزنا بقوة المنافسة عدة مرات متتالية. ويرجع ذلك أساسًا إلى جودة منتجاتنا عالية الجودة والخدمة الجيدة والأسعار التنافسية. نحن لا نضحي أبدًا بجودة منتجاتنا من أجل خفض الأسعار. نحن ملتزمون بتزويد العملاء بمنتجات عالية الجودة وبأسعار تنافسية. أفضل تجربة للعملاء كما هو الحال دائمًا.