Flexible Rubber Hose ship to France
21 May 2022
Flexible Rubber Hose & rotary drilling hose is widely used in oil gas industry and other industry, according to different application, it is also called as rotary drilling hose, standpipe rubber hose, high pressure flexible hose, cementing hose, fracturing hose, vibrator hose, mud hose, mud booster hose, well test hose, production hose, drilling hose, oil gas rubber hose. Flange rubber hose, drill string compensator hose, riser tensioner hose,MPD hose, acidizing hose, well stimulation hose etc.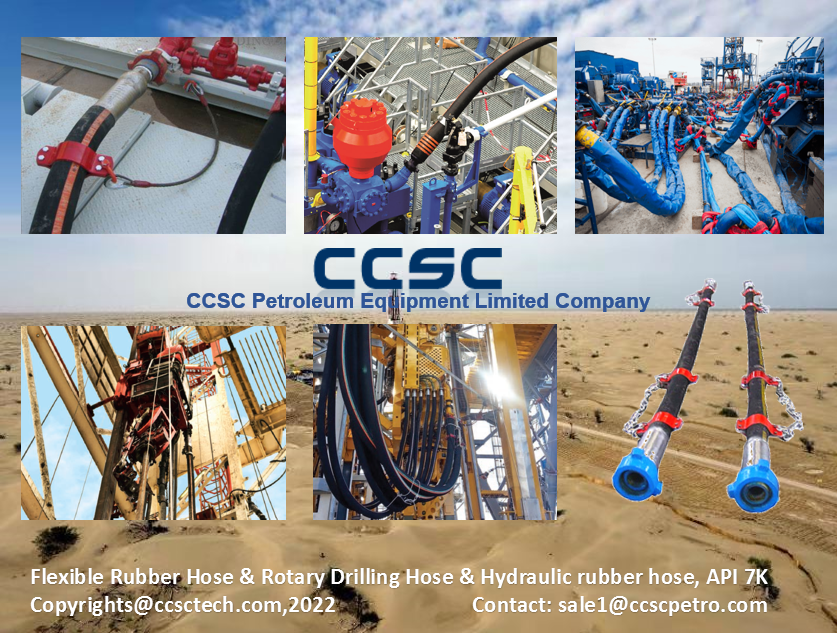 Our Flexible Rubber Hose & rotary drilling hose are designed according to API7K standard, and absorb the technology of FMC and SPM, and our products are always widely used in Oil Company and oil service companies at home and abroad.
Recently we have just completed a batch of Flexible Rubber Hose for our customers in France. The performance is stable, sturdy and durable, long life. Safe and reliable.
The specification of these Flexible Rubber Hose & rotary drilling hose is 2 inch Fig1502, 2"CLASS600 RF flange
The connection method include both hammer union and ASME flange,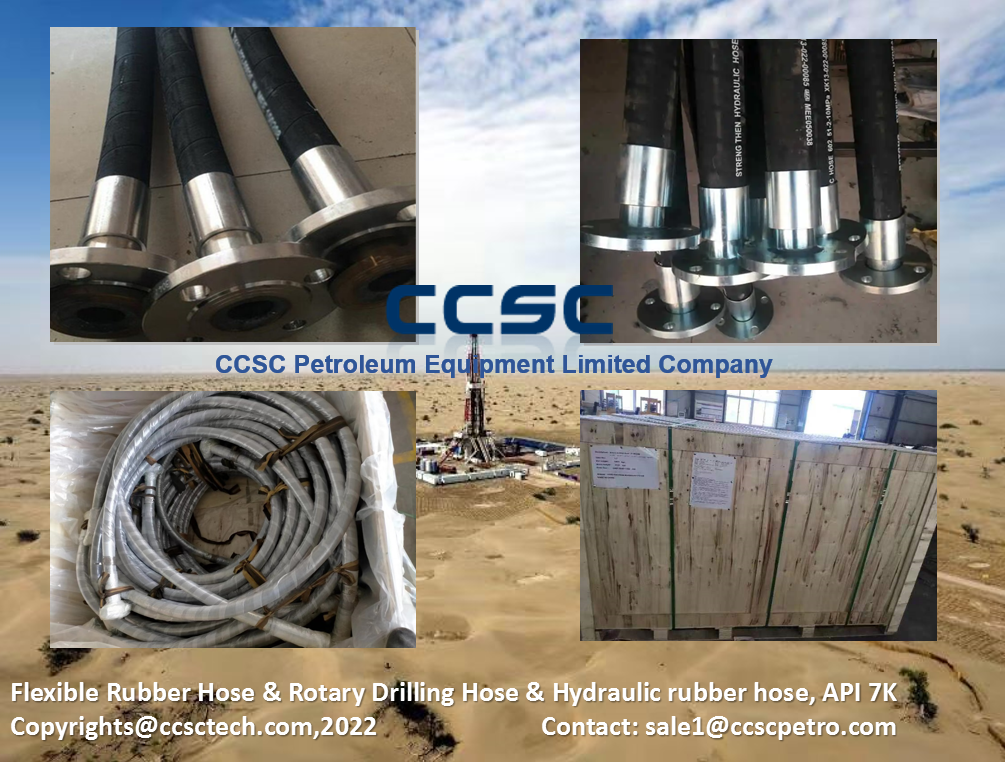 We are very good at Flexible Rubber Hose & rotary drilling hose, our products have been sold to major oil companies and service companies all over the world, such as BP, Shell, Halliburton, Schlumberger, Weatherford, CNPC, CNOOC, Sinopec, GE, etc.
We have many specifications and models available as optional, the connection method can be optional hammer union connection or flange connection. All products can also be customized according to customer requirements.
Our CCSC technology team is full of enthusiasm and looks forward to your inquiry.
All Rights Reserved, Copyrights@ccscpetro.2022 Email: sale1@ccscpetro.com clark@ccscpetro.com
Wechat & WhatsApp: +86 13764749879
Poster: Clark Guo, CCSC Petroleum Equipment Limited Company, Shanghai, China, 2022.05
Keywords: API7K, ,WECO, flexible rubber hose, rotary drilling hose, standpipe rubber hose, high pressure flexible hose, cementing hose, fracturing hose,vibrator hose, mud hose, mud booster hose, well test hose, production hose, drilling hose, rotary drilling hose, oil gas rubber hose. Flange rubber hose, weco hammer union rubber hose,Choke manifold hose, Flow line hose, SPM hose,NOV hose, Halliburton hose,Schlumberger hose, drill string compensator hose, riser tensioner hose,MPD hose, acidizing hose, well stimulation hose
YOUTUBE: ClarkWellhead